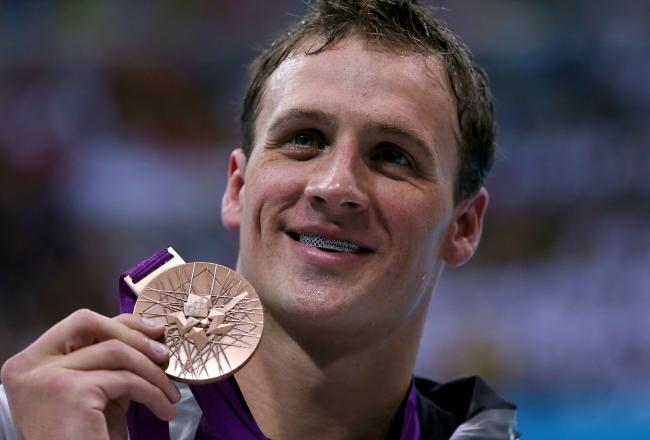 Okay, what in tarnation is going on? This Ryan Lochte kid wins a couple of gold medals during the London Summer Olympics, rocks some USA flavored grills (which was pretty cool at the time) and now he thinks he's some authority on the word "Jeah"? Child please! Lochte must be out of his god damned mind if he thinks he can trademark "Jeah" and get away scott free. He's clearly trying to squeeze as much as he can out of his 5 minutes but can we hold our horses on him trying to pimp out jeah? I hope to hell not. 
So why do I think Ryan Lochte is crazy outchea? Pretty simple actually. Not only is this guy trying to capitalize off of something he didn't create but also something that he never really popularized either. I'll give him credit though. He is definitely playing it the fuck out. Have you seen this guy try to explain what jeah means?
Oh, heeeeeeeeeeeeeeeeeeeeeeeeeeeeeeeeeeeeeyeeell no. This guy is ridiculousness personified and I don't mean that in a good way…..at all. However, there's more! He is trying to brand jeah and sell it on everything from shirts, hats, sunglasses, and possibly babies. Okay, the last one was a joke but I wouldn't put it past him. In fact, I don't want to give him any ideas.
"Jeah" has a long and storied history in the annals of hip hop. "Jeah" is also commonly known by it's variations such as "Chea", "Cheah" or "Gyeah". Young Jeezy has been using it since the inception of his career (which technically would be trap music inside of trap music). Cam'ron has been rocking out with the chea's since the "Purple Haze" album dropped and I must say….his ability to spit rapid fire cheas is awe inspiring. Hell, it's almost brings tears to my eyes. And let's not forget that the God MC, Jay-Z, has been saying jeah since the Blueprint 2 to my recollection.
However, we need to take it back to the originator. The man that created the trend of lazily saying yeah into the bastardizations that it is today. All hail MC Eiht. My man created and perfected it by flipping gyeah and making the usage of it into an artform. How long as he been killing us with the gyeah? How about since 1993 with "Streiht Up Menace" from the Menace II Society soundtrack. Visual evidence? Don't mind if I do!
But of course, MC Eiht is not having it. In fact, he's not letting Lochte have it without a fight. It being jeah if you might have forgot. Here's to hoping that MC Eiht sees some much needed cash out of Lochte for trying to heist Eiht's brainchild. Never forget!